This New Emergency SOS iOS11 Function is So Clever
Apple has recently released its new operating system, iOS11. Bringing new updates for its iPhones and iPads. The operating system introduced some cool new features, including augmented reality, a smarter Siri, and an improved messaging app. But there's one feature in particular, the new emergency SOS iOS11 function that could help to save lives.
If you are in danger, press the lock button 5 times in a row it gives a 3 second countdown and rings the police.  "Rapidly click the sleep/wake button five times to quickly call emergency services," the instructions read. This function means you might subtly be able to ring for help without alerting your attacker to the fact that you were calling 999.
A similar feature already exists in Samsung phones with its 'Emergency Mode'. Once this is switched on, users can simply touch the 'Emergency call' button to call the emergency services. However it's arguable that Apple's technique of pressing an external button five times in quick succession is an easier, more subtle way to connect to the emergency services, because you can do it without looking at the screen. But the main thing is that these kind of features now exist on phones!
How To Set Up Auto Call
SOS is automatically included on every iPhone running iOS 11 and there is no disabling it. Activate it by pressing on the sleep/wake button five times in rapid succession to bring up the swipe interface. If you want the feature to call emergency services automatically without the need for an extra gesture, here's how to toggle it on:
Open the Settings app.
Scroll down to "Emergency SOS."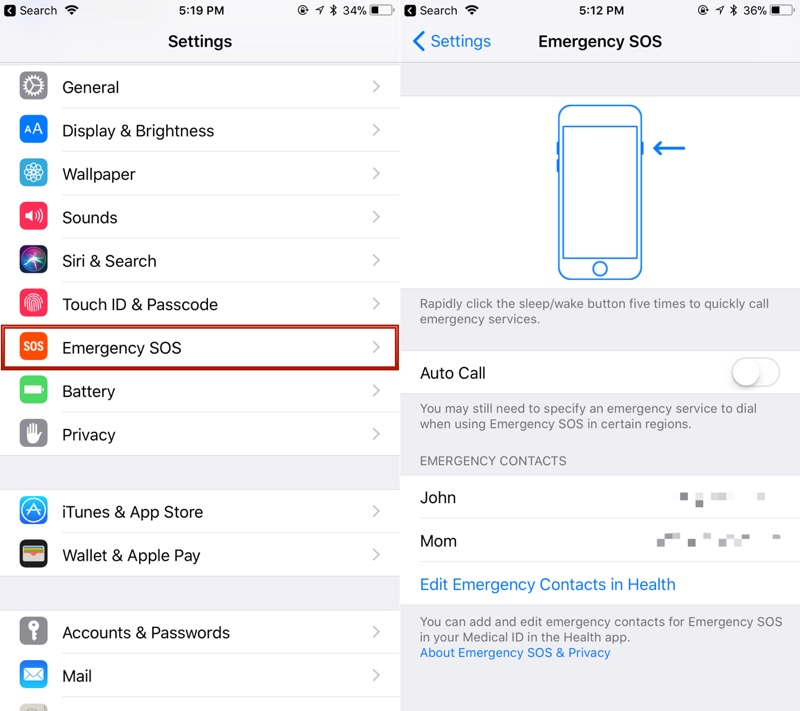 Toggle on "Auto Call."
While, to turn it off, simply toggle off Auto Call.
As a result, with Auto Call enabled, your phone will dial "999" (or your country's emergency line) after a three second countdown that gives you enough time to cancel the call if it's placed accidentally.